Aug 3, 2010

|Posted by Carolina Sunrise Webmaster
Our Outer Banks Fishing Inspiration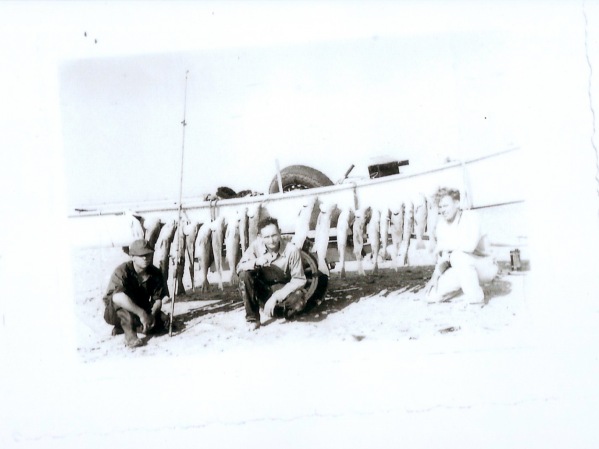 The "Salt Life" tradition runs deep in Capt. Aaron Beatson's family. Long before you'd find "Salt Life" bumper stickers on every other car along the highways of the Outer Banks and Virginia.....the Beatson family was fishing and hunting these parts in order to put food on the table. It was Capt. Beatson's Great-Grandfather, Nile Wolfe (pictured above), who started the tradition of working as a North Carolina fishing guide. Hailing from Elizabeth City, Nile started fishing the coastal regions of North Carolina at a young age and passed on his Sportsman knowledge to his kids. "The NC fishing guide tradition runs deep in my family, but it really is more than just taking people fishing.....my Great-Grandfather passed down a tradition of learning to survive on what you could catch from the fishing the inshore waters of NC and Virginia.....after all it was a lot cheaper to catch dinner than to pay for it," says Aaron.
Most of Capt. Beatson's family in the recent years has been involved with the NC inshore fishing waters in some way. "Tug Boat Captain, Charter Fisherman, and Fishing Guide" are some of the job titles you'll find across the family. For Capt. Beatson the five year process to get his Captain's license was hard work but was worth it. When asked where his inspiration comes from its no surprise that "Family" comes back as the answer. "I remember growing up fishing with my brother and Grandfather in the Cherry Stone Campground on the Eastern Shore of Virginia and bringing home Crab and Flounder to my Grandma," he says. "Grandma would stuff the flounder and it would be on the table the day that it was caught...." It's easy to see that these early family memories are the real inspiration for Capt. Beatson becoming an Outer Banks fishing guide.
Now in his 3rd year of owning and operating an Outer Banks fishing charter, Captain Aaron Beatson, is excited about the future. "I'm working to extend my fleet of boats so that we can improve our reach fishing the Outer Banks inshore waters." The main goal of Carolina Sunrise is to have fun....and if you spend time with Captain Beatson you can count of having a good time!